I've been delaying getting my wisdom tooth out for months. I was telling my friend about my apprehension a few weeks ago, and when I admitted to her that I was scared, she said:
"haha really? why? everyone gets their wisdom teeth out. It's no big deal"
"I know, but I won't have anyone to take care of me after"
Um, I beg my pardon?
Immediately I felt ashamed. I pride myself on being a strong independent woman.  I love that I can take care of myself… but damn, is it wrong to want to have someone spoon feed me ice cream because I'm  doped up on Novocain and can't navigate the spoon to my mouth?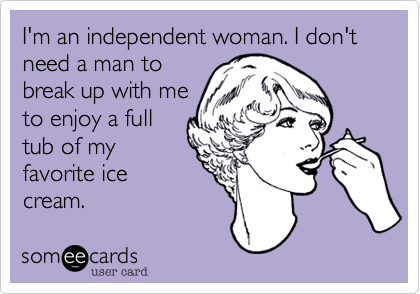 The thought of someone taking care of me makes me feel guilty. Wrong. Unnatural.
In reflecting on past encounters with men, I realize that I emit a very masculine energy. I feel uncomfortable when they open the door for me. I feel compelled to lead the conversation. I offer to pay. If it's a second date, I insist on paying. Being taken care of is foreign, and I think a large part of why I'm single is because I don't allow myself to be taken care of. Why? Because if I don't rely on someone else to care for me (or about me), I can't get hurt… right?
It does make sense in theory, but perhaps there's an alternative.
Until now I've failed to see that there's a difference between relying on someone to care for me and allowing them to care for me. The latter, of course, being a byproduct of caring enough about myself to recognize that I'm worthy of that attention from someone else….which is something I continue to strive towards every day. It's commonly said that "you can't love someone else until you love yourself", but more than that – I think you can't allow someone to love you until you love yourself.
….and as far as my wisdom tooth debacle, it I found myself confronted with three options:
a.) Find a man
b.) Keep my wisdom tooth and battle gum infections for the rest of my life until all my teeth fall out and the only person spoon feeding me greek yogurt is a nursing home aid named Doris.
c.) Suck it up. Get my wisdom tooth out. Take care of myself. Pray that I have someone to take care of me when I start popping out babies. (and hope that that will be the natural progression of things).
option c for the win.